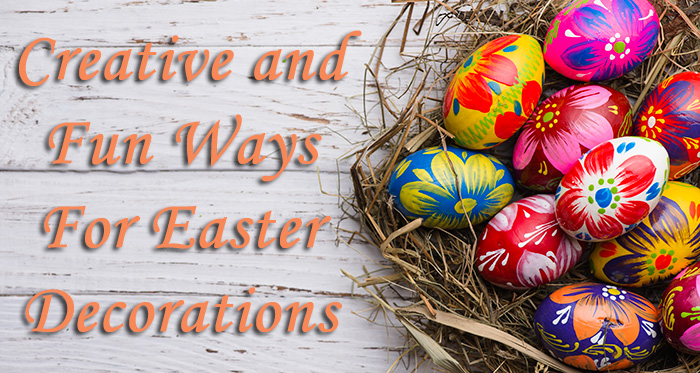 Are you excited to make your Easter 2019 most interesting this year?
Well, consider it your lucky day as we're going to present 7 best Easter decorating ideas for you if you are looking for some cheap Easter decorations which are easy on your pocket. It will help to explore your creative window  to make that happen.
Simply, by following our easiest and most enjoyable Easter decorating ideas 2019, you are going to transform your home completely. So, without further delay, let's begin:
1. Floral Easter Basket
Baskets are a must in every DIY Easter decoration, but people don't fancy simple Easter baskets anymore. What if there was a way to make this Easter decoration more appealing? Yes, you've got it right. You can make attractive floral basket by following a few steps:
To make the base of flower; cut stem off of your desired leaves and glue them to the basket
Choose the flowers you want to use and paste  those to the side of the basket
Attach flowers to all the boundaries of the basket to give it a balanced look
Finally, put in some Easter eggs and see your guests getting amazed by this Easter center piece idea
I personally prefer light colors since they go perfectly with the eggs. You can select the colors you see fit according to your Easter table decorations. It can also be used as Easter church decoration.
2. Easter Egg Tealights
What do you do with egg shells after taking egg white and yolk out of it?
Obviously, you throw them away.
But wait! You can put these egg shells to a greater use when it comes to Easter decorations.
Want to know how?
By making Easter egg tealights. It's not hard and it only requires; colored egg shells, egg tray and tea light candles. Let me walk you through the process:

Firstly dye your egg shells in the desired colors and put them in warm water
After drying these egg shells, remove the residue egg membrane completely
Put the tea light candles inside the egg shells carefully and place them in the tray
Light the candles and enjoy this delicate Easter home decor
Here's a secret. You can learn
how to dye Easter eggs
 on our website.
3. Easter Door Wreath
There is no better way to welcome the guests on Easter morning other than with Easter door décor. An elegant yet unique Easter door décor is a self-made Easter wreath. This Easter wreath for front door won't take more than 30 minutes. It will rock the overall look of your door.
Here's a complete guide for an Easter door wreath:

Take a grapevine wreath and apply glue in little portions
Attach floral wires throughout the grapevine wreath
Now entwine an Easter garland decoration with grapevine wreath so that it can blend equally
4. Easter Place Cards
If you are looking to host a family feast at your place to celebrate Easter, then you can surprise the guests at the table. First thing they are going to notice is the Easter table settings. That being said, we have the perfect Easter decorating idea for you and that is to create Easter place cards. This Easter decoration is going to give the table the final touch that it needs.
Things, you require to make that fun:

Paintbrush
Scissors
Glue
Ink pen
Paper towel roll
Let us show you how its done:
Draw simple drawings of the flag onto a paper and paint them in the desired colors
Cut out the drawings into shapes
Use the calligraphy pen to write names of your guests on the flags
Next, apply glue to the inner side of the flag
Round up the flag according to the radius of paper towel roll
Finally, place an egg in the rounded-up flag
5. Painted Egg Wreath
There are a lot of different Easter decoration ideas when it comes to wreath.
Even though you find a lot of Easter wreath in the market, the best of them is the one you make yourself. It doesn't matter if you are good in painting or not. All you need to do is draw a pattern on the eggs.
Let's get down to business:
Take black color paint and draw a pattern on the egg shells
Let the paint dry completely
Now make a hole in the eggs to pass a wire through them
After passing a wire, make sure to tie a little jute string on the joints
6. Easter Banner
Just like spelling out an occasion through a letter banner makes it more prominent. Why not do the same with Easter decoration? You can find many different themed Easter banners in the mall. Hanging up the banner will set a spring-like tone fitting the Easter occasion.
Beyond that, we can customize the banner according to our needs. Making a letter banner for Easter yard decoration is as simple as it gets:
Draw Easter egg templates
Cut the drawing into proper shapes and fill it with light colors
Draw shapes of alphabets to attach on the eggs.
Lastly, glue the alphabets on the eggs to complete the banner.
7. Easter Egg Tree
Imagine a stylish Egg tree placed in the corner of your lobby as an Easter decoration.
Sounds incredible, right?
In addition to that, it could also be used an outdoor Easter decoration. An Easter tree ornament can add beauty to your Easter home décor.
So, what are you waiting for? Pick up the following items:

A Beautiful vase
Short branches of any tree
Number of leaves
Threads or ribbons
Let's get to work:
Take the vase and pour consolidated mud in it
Now put the branches in the mud such that they stay at a fixed place
Tie the eggs to the branches with the help of threads.
If you want to make it look more appealing, place other Easter home decor near it. This will help blend in the Easter egg tree.
Now, that you have bundle of ideas for Easter decorations to make. You can completely transform your house or backyard into the perfect place for your Easter evening.