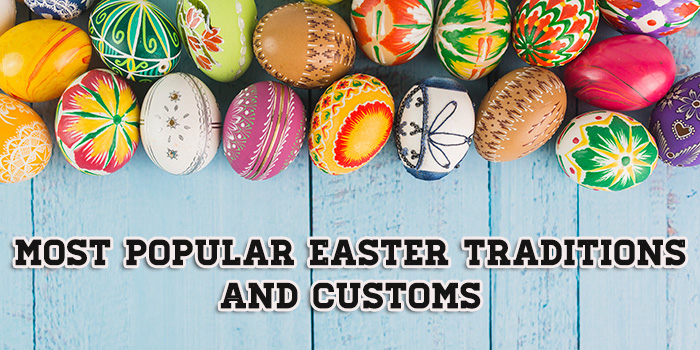 There are certain traditions and customs associated with every occasion. Same goes for Easter.
These Easter traditions around the world are passed on from generations to generations.
People around the world have practices strictly restricted to this holy occasion i.e. Easter. Kids love Easter egg candies served to them, families enjoy different Easter games and family feasts are held. While Catholics visit church and practice religion to commemorate this occasion.
To put to your knowledge, we have decided to walk you through some of the most common Easter customs and traditions.
So, you can add one of these to your list for Easter 2019.
1. Going to Church
Although this is one of the basic things that every Christian does on Easter. Some say prayers for the coming year while some express their gratitude to God. Regardless of the purpose of visit, every member of the family feels the urge of heading to church first thing on an Easter morning.
To add an ancient practice here,
Families that have been blessed with a little one in the nearby days, often take their newborn child to baptize them. This ritual has been believed to give more meaning to the life of the newborn baby.
2. Dress-up Sharp
An important part of the day is to pick out your best pair of clothes and get dressed. Dressing up on Easter should be on your to-do list because the occasion calls for it.
It's a happy occasion that needs to be addressed with gratitude, grace and celebrations. So, this coming Easter holiday, make sure you dress up in the finest way possible.
3.  Dyeing Easter Eggs
As fun as it sounds, dyeing Easter eggs has become a part of this religious occasion. Kids love to play with colors and there are a number of contests that are held to fill the Easter day with more excitement.
The concept of egg on Easter originally developed many years ago acknowledging the Mary incident and since then Easter eggs have been a vital part of the occasion.
Not only the kids but the teenagers have certain competitions that are held in order to see who paints the Easter eggs best.
All in all,
Dyeing Easter egg can never get old and every year families show up with box of colors along with egg trays to make sure they enjoy the event to the fullest.
4. Chocolate Bunny
Since, rabbits have been associated with the Pagan Goddess concept and the fertility, they became a closely linked with Easter. In the mid-1800s, many chocolate producing companies started making chocolate bunnies.
The concept of chocolate bunny picked up its pace when a drugstore in Pennsylvania displayed a five-foot-tall chocolate bunny on the store front. By 1940, chocolate bunnies became a trend.
5. Easter Eggs and Baskets
If there is one thing that comes to your mind related to Easter, that has got to be an 'Easter basket'. While many of the Easter baskets are a sign of German mythology, people across the globe have started creating their own customized Easter baskets.
According to German mythology, Eostre the pagan Goddess used to receive colored eggs from the rabbit as a token of gratitude. This rabbit was turned from a bird who was dying of cold. So, to save its life the Pagan Goddess turned it into a furry Rabbit. But the rabbit-turned bird never stopped laying eggs.
Following this concept, people carry the dyed Easter eggs in special Easter baskets which are usually stuffed with faux shredded grass making it look like a nest.
6. Easter Brunch
Easter is a good excuse to dine out. Whether it is with family, friends or your relatives. Easter brunch is an Easter family tradition and holds a significant value of gathering up all the family members and breaking the bread together. Many people add extra colors to the house by setting up table with Easter decorations. There are a lot of ways in which you can set up your dinning table for the special occasion of Easter.
Gathering your friends and family for a spring-inspired celebration is always a good idea.
7. Easter Parades
Wearing the perfect pair of clothes on Easter has always been a part of the occasion. It is believed that looking good on Easter means having good luck for the next whole year.
Even though it seems a bit strange. But maybe it has something to do with the re-birth concept.
Since, 1800s it has been a practice that Christians wear fancy clothes on Easter as they leave the church. This Easter tradition in America is being followed now by almost everyone and especially in New York.
8. Easter Hot Cross Buns
Easter traditions are not just those that meet the eye.
Back in 12th century, people started this tradition of making hot cross buns inspired by a monk. He was said to mark his rolls in order to honor the Good Friday.
Mostly, these hot cross buns are filled with raisins or currants. A little cross is marked on the top to make the tradition more evident.
9. Lent
Over the years, the tradition of Lent has been modified but the purpose still remains the same. The purpose of lent is to examine oneself and be patient.
In earlier times, Lent lasted not more than 2 or 3 days contrary to the 40 days observed today. In these 40 days, only one meal is to be taken which cannot include meat, fish or any other animal product.
The end of lent is beginning of Easter. It is believed that the one who successfully completes the period of 40 days observes a high degree of faith.
It is permissible to say that Easter brings about happiness and joys along with religious obligations. These customs are a vital part of the occasion and some of these should be practiced, if not all. Not only do that add essence to Easter but bring good luck for the coming year.
Hope, you have a great Easter!