Kids love Easter. They love how chocolate Easter eggs are hovering above their heads, they love playing different Easter egg games and they want to be involved in different activities.
With that being said,
It is important for us parents to keep our children involved in these healthy activities. This way not only do they learn more about their religion but also exercise their brain cells.
Making Easter crafts with kids is going to feel more fun than work.
So, get your working gloves on and follow our guide on how to make Easter craft for kids.
1. Easter Handprint Card
Every occasion needs to be addressed. Making a card for that particular occasion is the right way to do it.
Similarly,
For Easter, it is permissible to say that a beautiful customized card should be crafted. Asking the kids to help you with it will make it more exciting and they will love to do so.
Here are the things that you need, to make Easter Handprint Card;
White Cardstock
Small white and pink poms poms
Pink Pipe Cleaner
Googly Eyes
Paint of pink color
Let's get into the process;
Fold the cardstock and place it on your hand
Divide your pinky and ring finger from your middle and index finger
Draw a rough outline of your fingers pattern and cut the card from the outline, you will have a bunny face shaped card
Stick the white poms poms to the ears and the face of the card
Cut the pink pipe cleaner in two pieces and attach them on the front of the card with glue (on top of the poms poms)
Stick the googly eyes above the pipe cleaners
Now, you can write whatever you want inside the card to make it more customized.
2. Easter Bunny Paper Plates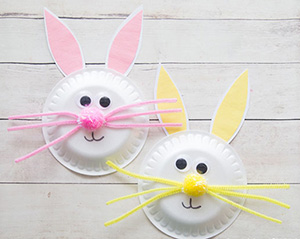 It is obvious that the event of Easter is celebrated with chocolates and delicious Easter desserts.
To make this occasion more wonderful for your kids,
You can help them make Easter bunny paper plates. So, they can have fun while eating those tasty Easter delights.
Good thing about these Easter crafts is that they are very easy to make and you don't need too many supplies.
Here's all the stuff that you will need;
Googly Eyes
Paper plates
Glue
Poms Poms
3 Pipe cleaners
Sheet papers of white and pink colors
Follow the method below to make the perfect Easter bunny paper plate;
Take all the 3 pipe cleaners and twist them together from the center to make the nose of the bunny
Glue the twisted pipe cleaners and on top of that glue the poms poms
Draw two shapes of bunny ears on each of the chart papers, make sure the ears on the white paper are bigger than the ones on pink sheet paper
Stick the pink bunny ears with the white bunny ears
Apply some glue on the ears and paste them on the paper plate such that they appear to be paper plate's ears
Glue the googly eyes to the paper, just above the nose
Draw the mouth of the bunny with a marker
Now, you have the Easter bunny paper plate that your kids can have fun with.
3. Felt Easter Eggs
Felt Easter eggs are a creative way to keep your children busy in a productive manner.
Although, they will need your supervision, but they will do the majority of work. It is simple yet elegant.
You will need;
Buttons
Felt
Poms Poms
Rhinestones
Ribbon
Glue
Downloadable Easter Egg template
To successfully make felt Easter eggs, make sure you follow the process below:
Place your printed Easter egg template on the felt
Cut out the felt according to the Easter egg template shape
Glue different buttons on the felt in your desired pattern
You have a self-prepared Easter Egg template that you can use as a home décor
4. Easter Paper Plate Basket
Paper plates are very resourceful when it comes to making Easter crafts. One other way of using paper plates for Easter 2019 is by making Easter paper plate baskets out of them.
These Easter paper plate baskets can be used as a unique table décor for the event of Easter.
It is very fun to make and the material you will need to make Easter paper plate baskets are;
2 paper plates
Paint of brown color
Brown colored cardstock
Ribbon
Glue
Gold glitter
Let's get started with the steps;
Take the brown colored paint and apply it on both the paper plates
Glue the paper plates together
Cut the top 1/3rd part of the paper plates
Cut the brown cardstock into strips and stick them in the pattern of your choosing
Stick the ribbon on the inside of the paper plates to make a handle on the top
Hang it on the wall or wherever you see fit, Easter paper plate basket will be a unique Easter decoration idea.
5. DIY Easter Tree
Easter trees are easy to make and pleasant to lay eyes on.
A good part about Easter tree is that it looks good which ever corner you place it on. You can make one of the easiest Easter trees with the help of right tools and supplies.
Those supplies are:
Eggs
Ribbon
Branches of a tree
A mason jar or a vase that can handle the weight of Easter tree
Here's how to make a customized Easter tree:
Carefully make a tiny hole on the top and bottom of the egg to pour out the yolk and egg white
With a help of glue, attach ribbon loops on the top of the egg shells
Put some pebbles in the jar to help it hold the Easter tree
Place the branches inside the jar and hang the eggs on them
Easter 2019 is a wonderful opportunity for you to spend time with your kids and family members. When you indulge yourself and your kids in these fun activities, you'll be surprised to see how happy it makes your kids.
So, leave all the work behind and team up with your kids to do these fun-filled activities.