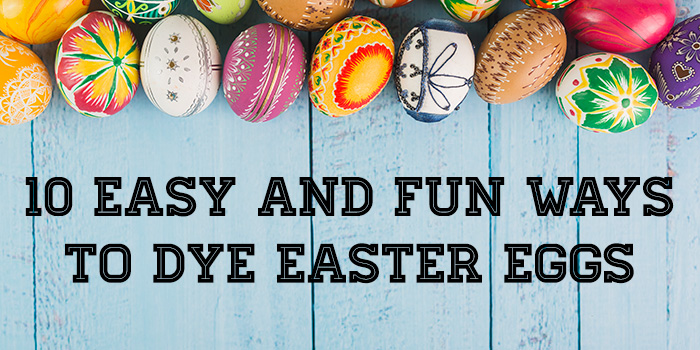 Occasion of Easter brings joyous festivity and celebrations along with religious obligation. The Easter egg painting is one of the most fun-filled and engaging activity for kids. It is a source of much happiness through participation in cool Easter egg games.
You can simply involve children to paint the eggs and thus making the Easter 2019 event more attractive and interesting. Here we have an interesting piece of reading for you on 'how to dye Easter eggs?'. We are going to share all bits and basics of dying Easter eggs with different colors and techniques.
So, hop on to know different ways of coloring Easter eggs and how to dye eggs to make it possible. Let's get started to create different Easter egg designs.
The best techniques, you can try on:
1. Using Food Color To Dye Easter Eggs
Whether you're a child or a grown up, you are bound to fall in love with variety of colors. Similarly, to pour layers of egg coloring, you just need:
Water
White vinegar
Color of your choice
You can do this by simply boiling Easter eggs in a pot with white vinegar and water. The quantity depends upon the number of dying eggs you want. After boiling the water with white vinegar add the desired colors.
Let the mixture cool and as soon as it cools, simply add the eggs. Here you go with the colored Easter eggs.
2. Cracked Easter Eggs
The interesting idea is to color Easter eggs as if they are going to hatch.. How to color Easter eggs this way?
You can try as follow:
To make cracked Easter eggs, you require to hard boiling the eggs before letting them out to dry for 15 minutes. Pour cold water on them to make the outer shell a bit hard and simply slide the colored hard-boiled eggs on the counter with a light touch to crack it from the outside. In the end, do the desired Easter egg decorating to get cracked Easter eggs.
3. Dying Easter Eggs Using Fruits and Vegetables
When it comes to dying Easter egg ideas, the natural way prevails as it is delicious as it is eye-catching. How to dye eggs with food coloring? You will need to have the specific fruits or vegetables for certain colors. For instance:
Turmeric – Yellow color
Chopped beets – Pink color
Purple or red cabbage – Blue color
Yellow onion skins – Orange color
Frozen blueberries – Silver color
4. Dying Easter eggs with shaving Cream
Weird??? Obviously, Easter egg painting ideas using shaved cream sounds a bit strange but don't worry because shaved cream is removed at the end. The first thing you need to do is hard boiling of Easter eggs, then put shaving cream on a cookie sheet and spread the Easter egg coloring ideas you have in mind.
After drying the colored Easter eggs, you can rinse off the shaving cream.
That's it.
5. Silk Tie Easter Eggs
Yes, you heard it right! There is a great way to tie dye Easter eggs with the help of silk ties. Be sure to pick the ugly ones because that's how Easter eggs are made that leave a never-ending impression. Steps to follow include:
Cut out a piece of silk cloth that covers the whole egg
Now, tightly wrap up the Easter egg with the silk side in contact with the egg shell
Boil the eggs in water mixed with bit of vinegar
Remove the hard-boiled eggs for Easter decorating and let them cool while the pattern gets imprinted on the Easter egg layers.
Lastly, remove the cloth from the eggs and you have yourself Silk dyed Easter eggs
6. Easter Eggs Decoration Using Flowers
Inspired by the elegant appearance of flowers, the idea of Easter eggs design has chocked up. To make this beautiful piece of art, paint an egg blue and glue the flower on the egg. It is simple and beautiful way to decorate Easter eggs. It seems as Easter egg drawing served on a plate.
7. Dye Easter Egg Using Rice
Rice is considered as one of the most enjoyed forms of dying Easter eggs. Furthermore, dying Easter eggs with rice takes minimal effort and is quite very appealing.
Let's get into 'how to color Easter eggs using rice?'
Take a container that can be sealed and fill it with rice. Add food color to make it more interesting and make sure that rice is fully covered in the color. Now put a hard-boiled Easter egg in the container and seal it well. Shake it until you feel the Easter egg is colored completely.
8. Whipped Cream Dyed Easter Eggs
For those of you who don't like the idea of using shaving cream on an Easter egg, there is a safer way to make more creative Easter eggs and that is with the help of whipped cream.
It is not tricky, just try this fun. Simply,
Take a pan and spray whipped cream all over the utensil
Pour food color on the whipped cream and mix it with spoon to get a fashioned Easter egg pattern out of it
Dip the eggs separately in vinegar and boiling water
After a while, take out the hard-boiled Easter eggs
Allow to dry
Give Easter eggs swirl in the color
Time to present Whipped cream dyed Easter eggs
9. Using Kool-Aid To Dye Easter Eggs
Kool-Aid powdered drink mix is a healthy and at the same time best way to color Easter eggs. Pour water in a container and mix Kool-Aid in the water to make the Easter egg colors. After properly stirring the solution, take an egg and put in the container for cool Easter egg designs. Keep the egg dipped in the solution until the egg coloring is complete and enjoy the pretty Easter egg at your disposal.
10. Dye Easter Eggs with Nail Polish
Much Fun for everyone especially for Nail-polish lovers.
Dying Easter eggs with nail polish has been practiced over a decade since anyone can do it. Whether you are an art enthusiast or not, you can use this method to dye Easter eggs anyway you want.
All you must do is fill a cup with different combinations of nail polish and mix it up. You can find a variety of Easter egg template to get the idea. Now dip the Easter egg from both the sides one by one so that the sequence of colors distributes itself uniformly. After a few minutes of drying, you can brag all about your Easter egg nail design.
Although there is multiple other ways to dye the Easter eggs, but above-mentioned techniques on 'how to make colored eggs for Easter' are the finest and most convenient ways to dye Easter eggs.
Simply, try to get the desired results for your perfect Easter evening.