Commemorating the occasion by giving cards to your friends or family members is a great way of showing affection and care. Similarly, the festival of Easter is all about sharing moments of joy and happiness with each other.
On Easter 2019, you can add another spell of happiness by making DIY Easter cards for your loved ones. There are a lot of different Easter card ideas that you will find but here, we are going to share the creative, easy to make and best ones with you.
Before we get into it, note that these Easter cards to make are very cost-friendly.



Let's get started,
1. Old Fabric Easter Card
First off, we start with the most creative way of making Easter cards using fabric. This is your chance for utilizing old pieces of cloth you have in your wardrobe.
The things you need to make this kind of Easter card includes;
Old Fabric
Brown chart paper
Glue
Two plain white papers
Ribbon
A scissor
The process to make 'Old Fabric Easter Card' is;
Draw an egg-shaped figure on the fabric which can be used as an outer boundary
Cut the outer boundary to get an egg-shaped fabric
Fold the chart paper in two with equal side from both ends
Paste the egg-shaped fabric on the front of the brown chart paper
Glue the plain white papers inside. One on each side
Tie a ribbon on the fabric egg to make it attractive
Now, write a lovely message to complete this beautiful Easter card.
2. Printable Easter Card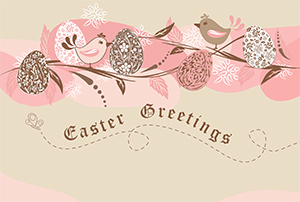 Easter is an occasion that calls for fun with your little ones. If you're running low on time and are willing to make a handmade Easter card for your child, printable funny Easter card is your answer.
There are a lot of Easter templates that you can print out depending on your child's favorite. Here are the steps you need to follow in order to make it more customized:
Download the template from any website that you like
Print out the Easter template
Now cut a piece of chart paper depending upon the size of the template such that the piece of paper can be folded in two
Apply glue to the back of the template and stick on the front side of the chart paper
Inside of the card, you can add a sweet message for the little one. Your card may be simple but it will purely reflect your love for your kid and he's going to love it.
3. Egg-shaped Easter Card
The first thing that comes to anyone's mind when they think about Easter is 'Easter Eggs'. A good way to put this thought in use is to make a card out of it.
Things you need:
Colored chart paper
Ribbon
Marker
Glue
Scissors
To make the Egg-shaped Easter card:
Fold the chart paper in two equal side halves
Draw an egg-shaped outline on the colored chart paper
Cut the outline of the egg from the chart paper, you will have an egg-shaped Easter card
Now paste the ribbon on the front side of the Easter card
With a marker, write 'Happy Easter' to complete the front side of the card
You have yourself an Egg-shaped Easter card. Now, write anything you want inside the Easter card and commemorate Easter.
4. Religious Easter Card
Easter is one of the most sacred events in the Christian calendar. The celebration of Jesus Christ's re-birth is seen as a means for a life lesson and a chance to rejoice.
A perfect way to seize the day is to make a religious Easter card that will bring smiles on the face of the receiver.
The materials that you're going to need for this type of Easter card are:
Chart paper of your desired color
Glue
Scissor
Glitter
A beautiful religious quotation
Let's start with the process:
Cut enough chart paper to fold it in half
Draw a nice 'Cross' on the chart paper to cut it afterwards
After cutting out the Cross from the chart paper, stick it on the front of the card
Now print out the religious quotation of your choice
Apply glue on one side of the Easter card from the inside and paste the quotation
There you have it, a religious Easter card to gift it to your family or friends.
5. Bunny Shaped Easter Card
Easter bunny is an important element of the Easter occasion since the core concept of Easter eggs comes from Easter bunnies. 'Bunny shaped Easter cards' are going to be the next best thing, this Easter 2019.
The tasks that you will have to do in order to make this Easter card are simple:
Download and print an Easter bunny card template
While selecting Easter bunny card template make sure the template you're downloading can be folded in two halves
After printing it out, fold the template in two halves to make it a proper card
Now, you can write down your wishes on this bunny shaped Easter card for this holy occasion of Easter.
6. Boxed Easter Cards
Best way to surprise your kid, when they open up a present is through 'Boxed Easter Card'.
A boxed Easter card can be of many kinds and you can buy them from online stores such Amazon, Hallmark, dayspring and many more. You can find the best ones online, under the hallmark Easter cards section.
So, if you're looking to buy a surprise for your kids. You've got to buy boxed Easter card.
Imagine, the smile on their face as they open up the box to find so many Easter fun crafts in a nutshell.
Taking out time and making these customized Easter cards is an excellent way of expressing your love for your family and friends. Because the smallest actions can make big impacts.
So, take a break from your daily life routine and make these amazing DIY Easter cards.